BRADY'S TIPS FOR PRINTABLES
PG.2
Tips for Brady's little birth announcements
I never fold the card stock after printing.This creates wrinkles sometimes.What I like to do,is draw a very LIGHT (horizontal) pencil line above the bottom cards(3 and 4).Try to draw you line just above the pictures on the 3rd and 4th cards.Note:This will not be exactly center because of the extra "white space"on the bottom cards.Now you have 2 parts.Next,draw another very LIGHT(verticle) pencil line between the cards.You should now have 4 little cards.*TIP:Trim your 2 longer cards to match your shorter cards.This will look alot neater.
You may use your cards "as is" or make them fancier.
Here are a few suggestions
Trim your cards very close to the edge with a decorative edger. You don't want to cut off much at all!
Apply your little cards to printed scrapbook papers to create a layered effect.Make sure your second layer will fit into your little invitation size envelopes.


*TIP:Make these little cards for gifts.Put several printed cards and matching envelopes together with a pink/blue bow.Your expectant mom will always need a few extra announcements.The invitation envelopes come in pastel colors as well as white.They're very inexpensive.


2 FOLD CARDS
These cards can be used in several ways.They work great for sending photos.Just apply your photo to the inside bottom of the card.I use scotch tape doubled back on itself,to hold photos in the cards.This makes it easy to get the photos out,should the person want to put it in a frame etc.These cards are also good to use as blank note cards or filled with the statistics of your baby's birth.I've noticed the pastel card stock available and thought that would be great to print these on.There are envelopes availabe at your office supply just for this size card.They come in a box of 100 and are about $5.


CLIPART AND SAYINGS
These little pictures and sayngs can be printed and cut out for your scrapbooks.They also make cute applications to handcrafted picture frames for your memories.Cut out a picture or saying and glue to a frame you've made out printed card stock.Use any of the scrapbook pages for a printed frame.Of course you may cut your frame to any size you need for your photo.Just use your imagination and have fun.


See YOUR IDEAS page for even more ideas.
Send us some of yours.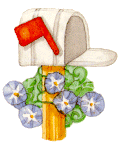 *PC USER MENU*
BRADY'S PRINTABLES
POOH PRINTABLES
POOH SCRAPBOOK PAGES
BABY ANGELS PRINTABLES
ANGEL SCRAPBOOK PRINTABLES
BABY MICKEY PRINTABLES
BABY MINNIE PRINTABLES
BRADY'S SCRAPBOOK PRINTABLES
BRADY'S SCRAPBOOK PRINTABLES PG.2
SCAPBOOK CLIPART
SCRAPBOOK SAYINGS
BRADY'S PRINTABLE FRAMES
BABY BOY ANNOUNCEMENTS
BABY GIRL ANNOUNCEMENTS
BRADY'S TIPS FOR PRINTABLES
BRADY'S TIPS PG.2
YOUR IDEAS
SCRAPBOOKING LINKS
WEBRINGS I BELONG TO
SPECIAL GIFTS
HOME